Cooperation agreement between the Friedrich-Alexander-University and the International Nuremberg Principles Academy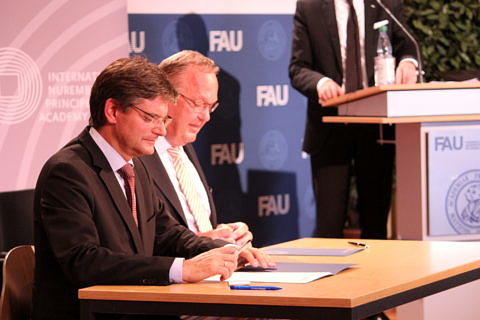 The Friedrich-Alexander-Universität Erlangen-Nürnberg (FAU) and the International Nuremberg Principles Academy have concluded a cooperation agreement. The solemn signing by the Director of the Nuremberg Academy, Klaus Rackwitz, and the President of the FAU, Prof. Joachim Hornegger, took place as part of a joint event at the Auditorium of Schloss Erlangen on 17 July 2019.
The two institutions aim at expanding and intensifying their cooperation in research and teaching in the field of international criminal law, especially between the Nuremberg Academy and the International Criminal Law Research Unit (ICLU) of the FAU. The agreement relates in particular to the joint organization and realization of academic conferences, capacity building measures, and the "Nuremberg Moot Court", the common supervision of dissertation projects as well as carrying out common research and scientific projects.
Following the signing, a discussion on the conflict in Syria with experts in the theoretical and practical fields took place and rounded off the evening.